TIFFANY ANGELES
Tiffany is the lead headshot photographer.  She loves working with people and feels engaging with her clients is what creates that spark in her photos.
As a manager of a model and talent agency for several years she has a keen eye for capturing a headshot that speaks to the viewer instead of just a blank stare in a photo.
To find out more about Tiffany and see her other interests, check out her lifestyle blog.  She loves entertaining and refurbishing furniture and loves to turn trash to treasure. Read more at www.tiffanyangeles.com
Tiffany's other photography skills include wedding photography and kids photography.
www.tiffanyangelesweddings.com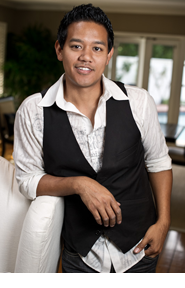 MARC ANGELES
Marc brings versatility to the photo shoot offering ideas on how best to light, whether natural or artificial.  His technical skills are unmatched, as well as his computer skills.  You might think he is a tech nerd but he is way cooler than that.
Marc and Tiffany have been married for 8 years and are extremely grateful to be working together doing what they love.
Marc is also an accomplished architectural and real estate photographer. Check out his website at www.unlimitedstylerealestate.com